Transdev exits Jerusalem light rail project – Financial Times
by
NewsStand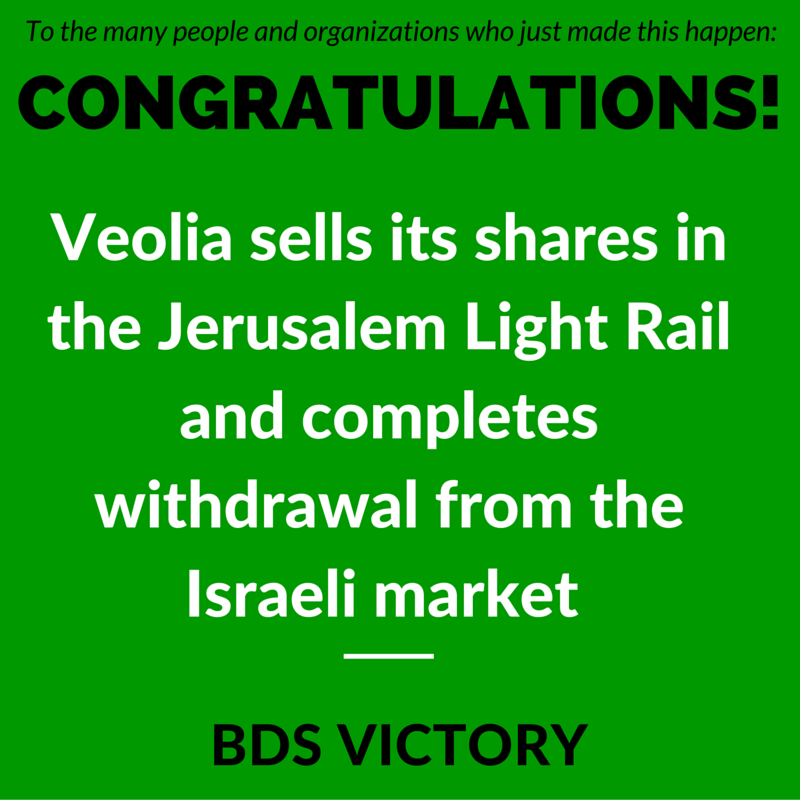 France's Transdev, half-owned by Veolia, has exited Jerusalem's controversial light rail project — causing supporters of the movement to boycott Israel over of its treatment of the Palestinians to claim a victory in their campaign.
However, the French company insisted that its decision to sell its interest in the railway was purely strategic.
A senior executive at Transdev told the Financial Times that it had sold its 5 per cent share in CityPass, the concession company for the train that links west Jerusalem with Arab neighbourhoods and Jewish settlements to its east. Transdev also sold all of its shares in Connex Jerusalem, the operating company that runs the train.
"We signed the shareholder purchasing agreement back in September 2014 and it took until now for antitrust and other approvals to come through," Richard Dujardin, a member of Transdev's executive committee, told the Financial Times. "The deal closed on August 6."
Veolia had been pressed over many years, and in several countries, by activists from the "Boycott, Divestment and Sanctions" or BDS movement targeting Israel.
At the weekend, Omar Barghouti, a co-founder of BDS, said: "Veolia, one of the largest corporations in the world, was compelled by successful boycott and divestment campaigns that cost it more than $26bn in tenders to sell off all its operations in Israel that violated international law."
But Transdev insisted that it had sold its remaining interest in the train in response to an offer from CityPass's other shareholders.
"We were approached by the shareholders of CityPass," Mr Dujardin said. "It wasn't us approaching them — they approached us." He said Transdev had in 2013-14 defined its participation in the Jerusalem tram line as "nonstrategic".
Transdev sold the stake for an undisclosed sum to CityPass's existing shareholders, including Israeli groups Ashtrom, Israel Infrastructure Fund, and Harel Insurance.
Veolia executives have acknowledged privately that the rail project cost the company business contracts.
In addition to the pressure put on the company and potential customers by BDS campaigners, the train and its stations have been vandalised by Arab protesters during a wave of unrest in Jerusalem over the past year.
"From the beginning, they wanted to sell the light rail; it was the biggest mistake," a person with direct knowledge of the group's thinking told the FT recently.
In April, Veolia sold most of its Israeli holdings, apart from the rail interest owned through Transdev, to a private equity group. The company said the move was part of a strategy to refocus itself geographically, reduce debt, and pursue other opportunities, and Veolia has exited a number of other non-core markets.
BDS campaigners, who model their movement on the international campaign against apartheid, have been targeting companies directly linked to activities in the Israeli-occupied West Bank and East Jerusalem. France's Safege recently shelved plans to support a cable car project running through East Jerusalem after coming under pressure from campaigners.
Israel's government is fighting back vigorously against the boycott movement, which it describes as anti-Semitic and says harms the chances of peace with the Palestinians by hardening their leadership's negotiating positions.
Stéphane Richard, chief executive of the French telecoms group Orange, angered Israel's government in June after he told a Cairo business group that his company, also targeted by campaigners because of its brand's involvement in Israel, would leave the country if it could.
Mr Richard said that his remarks were misunderstood, and travelled to Israel to apologise to Prime Minister Benjamin Netanyahu.